Bond with your family and nature together at these 5 stunning destinations!
Bond with your family and nature together, these vacations will equip your child with life skills. What's more, they are a lot of fun too!
Camping Orcha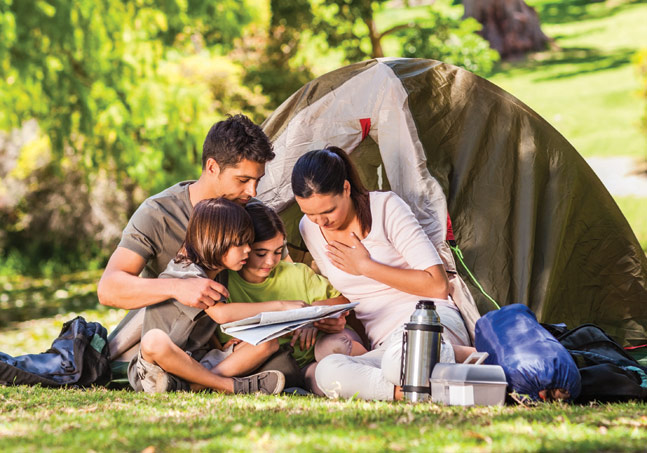 Madhya Pradesh is truly the unexplored land of wonders. From less known plush hotels to wildlife parks teeming with tigers, there are many areas to explore in the central-most state of India for people with different interests. Among several such undiscovered wonders is the beautiful and historical town of Orchha – the name itself means "hidden". With a sprawling fort-palace extending across the town and the Betwa river flowing by, the town has a lot to offer in terms of sightseeing and history. Add to this the fun of camping and you have a memorable holiday on the cards.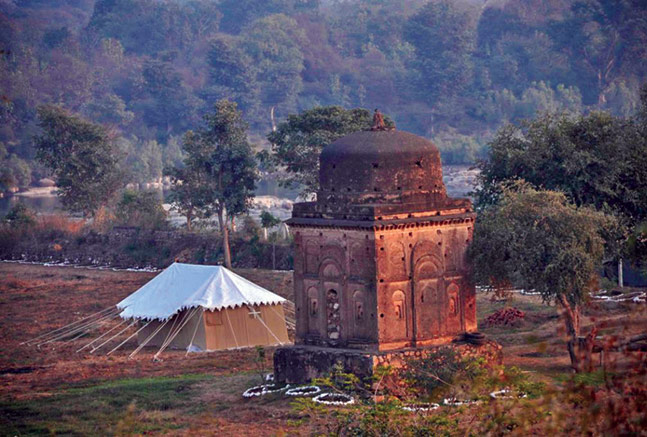 The Blue Bull Camp offers several activities that start with an orientation hike around the area. The fort complex of Orchha is huge and is divided into three parts – Raj, Jehangir and Rai Parveen Mahal – each with several intricately carved chhatris and elaborate murals, – it can take a whole day to explore just this complex. At the Blue Bull camp complex, you can choose between rock climbing, rappelling, bouldering, cycling or simply explore the city on foot.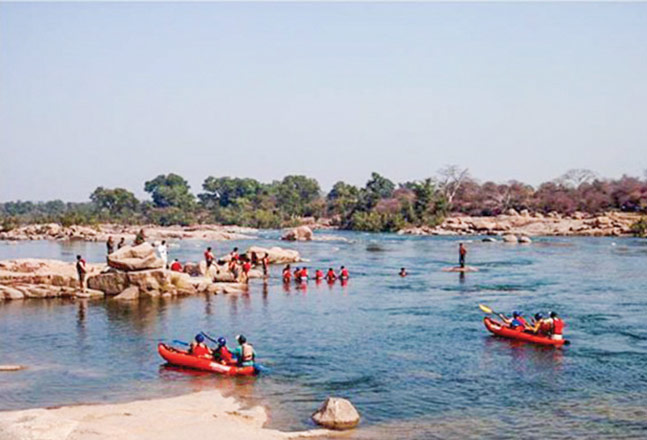 Then comes the famous river – there are kayaking and rafting on the Betwa, organised by the camp. With Grade I and II rapids only, these are safe yet adventurous activities for the whole family. There is also a nature reserve nearby where you can spot several species of birds as well as go on some easy hiking trails. The safari tents, where you retreat to, are comfortable and bonfires and dinners add to the fun.
Horse Safari Rajasthan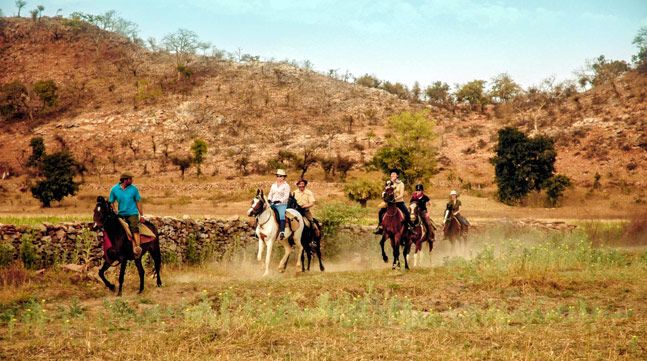 Everyone goes on jeep safaris, and you can still do that in most of the wildlife parks in India, but recently, equestrian holidays have become big in Rajasthan. While on the back of a horse, you don't only go exploring a jungle, but also real life. Horse safaris are a great way of witnessing local life in Rajasthan as you put on your jodhpurs and ride across villages and cut through small towns that you would have skipped otherwise. You can choose to ride a rare thoroughbred Mewar horse from the region to add in that extra local flair to your holiday. And children would just love it!
Horse safaris are possible almost all across Rajasthan including the popular towns of Mandawa, Jodhpur and Udaipur as well as less known areas such as Osian and Luni. These trips can be customised to your budget entirely, and you can even throw in a jeep safari through the jungles of Ranthambhore if you want. All along the journey, cooks and guides will accompany you, and you can either choose to stop at fort hotels, or stay in camps along the way. With music in the night under the starry desert sky and friendly conversations with villagers during the day, this holiday will be a perfect mix of family time and getting to know a bit more about the place.
Water Sports Goa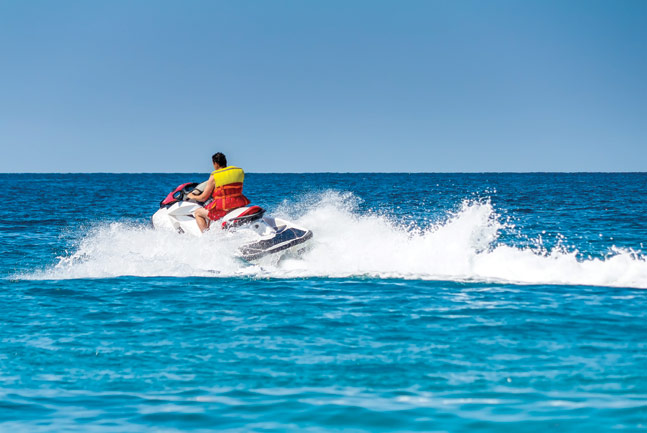 The ripple of the sea will match the gurgle of laughter when a wave of water splashes you, as you navigate the sea on your water-scooter, cutting across at a thrilling speed. Waterskiing is just one of the many water adventure activities in Goa – parasailing, speed-boating, surfing, banana boating and scuba diving are equally popular.
Arasailing offers a thrill of its own. Here you are harnessed inside a parachute, which is in turn tied to speedboat by a long rope – you just let go at the beach and are lifted off… soon you are sailing weightlessly over the water like a bird, the speed-board charting your thrilling flight.
Dona Paula, a suburb of Panjim, is the ideal base to try out wind-surfing. A blend of sailing and surfing, wind-surfing involves balancing yourself on water by judging the strength and direction of the wind and water. For beginners, however, it is best to try this technical sport only in the morning when the sea is almost as calm as a lake.
If you don't want to exert yourself, you can also hire a dinghy, pack a fun picnic lunch, simply sit back and cruise on the water while someone else does the sailing!
If you want to teach the children a thing or two about underwater life, scuba diving is an ideal water sport, and it does not require you to know how to swim. Different beaches are good for different activities but the busiest hubs are Baga, Candolim and Calangute – on these beaches you can try out most of the water sports available in the city-state.
In Goa, several private adventure tour operators have set shops over the years but the best bet is to let your hotel arrange these activities for you at a reasonable rate.
Hiking Kerala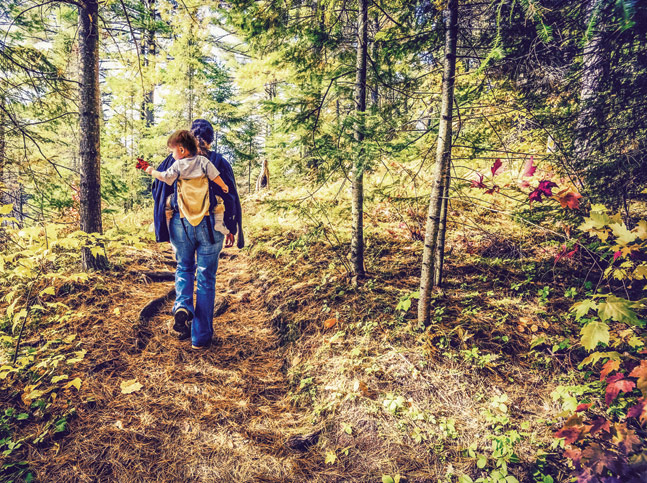 While the Himalayas are undoubtedly the best for high adrenaline trekking experiences, a gentler trekking option awaits adventure buffs in Kerala. Munnar, with its rolling hills, has several excellent hiking possibilities, but for a slightly different experience, I suggest the Periyar Border Hike. Combining the twin thrills of wildlife and adventure, the border hike of Periyar National Park is a day-long walk hike around the edges of the sanctuary in Idukki, about 180km from Kochi (almost four hours by road from the airport).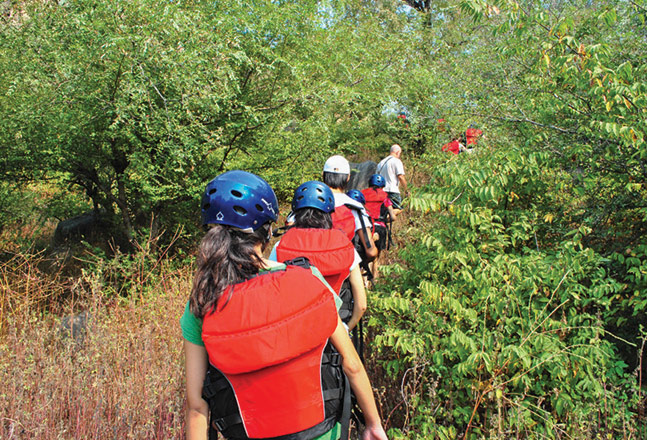 You have to start early – the hike begins at 8am and goes on till dusk. The walking trail winds its way through the diverse terrain of the national park. A naturalist will point out the different flora along the way – with over 100 varieties of orchids and different tree species such as teak, rosewoods, bamboos and more (the forest will be a delight for the amateur botanist). You can be almost sure of spotting an elephant on the way. If lucky, you might also see the big cat; Periyar is known as a tiger and elephant reserve and at last count there were 24 Bengal tigers in the sanctuary. The hike climbs up to 1,300m and you get a fantastic view of the plains from the top. Birdwatchers should look out for local and rare birds such as the Malabar Grey Hornbill, Nilgiri Flycatcher and the Blue-winged Parakeet. There are more than 250 bird species than you can spot here, so keep the binoculars handy.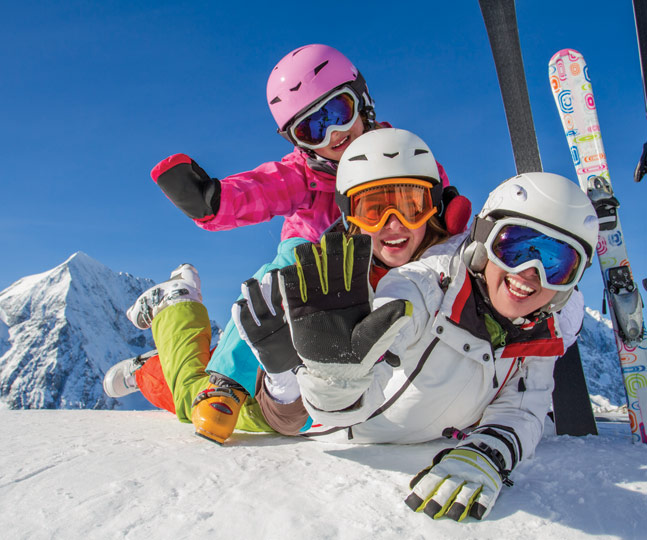 This year-round destination actually comes to life in the winters; the skiing season kicks off at the end of December (lasts till March) and the whole world descends on Kashmir to enjoy world-class skiing facilities at a fraction of the cost. There are several levels of skiing in Gulmarg on offer – from learners to pro, including the extreme sport of heli-skiing where a helicopter takes you to higher skiing slopes inaccessible by any other means.
The famous Gulmarg Gondola operates from the Gulmarg Bowl, which is the main hub of the town with all the hotels, and goes up in two phases. Phase I is open for most part of the year while Phase II may be shut due to avalanche warnings during heavy snow periods. Beginners can practice in the golf course at the Bowl, which is an easy adventure spot and is mainly used by children and amateurs. All of Gulmarg's skiing slopes are off-piste and, whether you are a beginner, an intermediary or an expert, it's best if you hire a guide and ski only under supervision. As high as 13,000 ft, there is over three acres of ski terrain in Gulmarg to explore, with the longest ski run possible going up to 8km. Up in the mountains, it's just you and the endless white, as snow covered trees dot the ski areas everywhere. The powdery snow of Gulmarg is perfect for skiing and The Khyber resort is often ranked among the best in the world. Glide down the picture perfect slopes of the Apharwat under the guidance of an expert and end your day with some kahwa (local tea made with saffron and almonds) and Kashmiri wazawan.
Source: Indiatoday.in