Trade & commercial networks through the ages have evolved the exchange of ideas & cultures, with the Indian textile crafts bearing testimony to the rich heritage of the same.
Here is a glimpse of some of the specialised textile crafts of the country: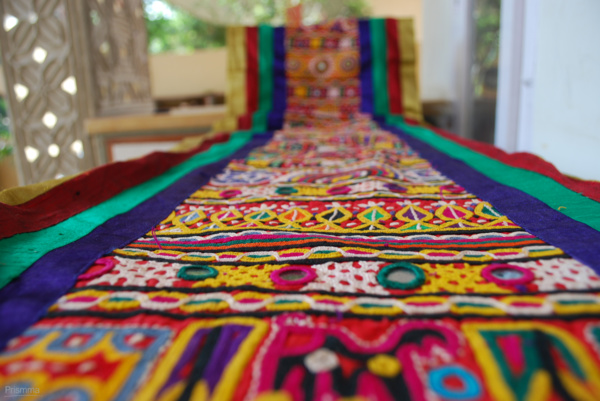 (1) BANDHEJ: TIE & DYE
"Bandhani" or "Bandhej" Tie & Dye is one of the oldest & most distinctive textile crafts of Gujarat, where assorted fabrics ranging from cotton, silk, wool, muslin among others, are illustrated with a myriad of motifs & patterns like Ambadal, Gharchola, Chandrakukdi, Kalger, Shikari etc. dyed with the vivid & innumerable hues of red, yellow, green, indigo, black, white and many more.
The technique involves knotting dotted specks on fabric &submerging it into colourful dyes to attain the final product with the intricately designed patterns worn for both everyday and ceremonial clothing.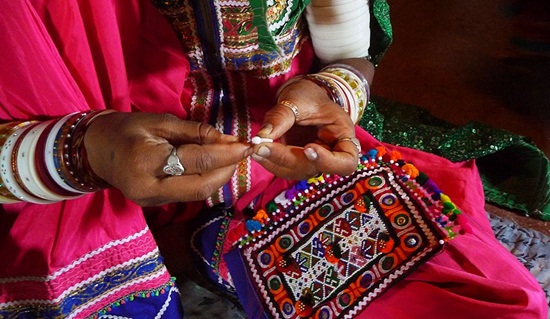 Jamnagar, Surendranagar, Kutch etc. are well-known centres of production, with an array of merchandises – Odhnis, Abhos, Sarees, Turbans, Bags, Quilts, Wall hangings etc., all manufactured with the experimented use of different elements – both natural and man-made throughout.
(2) KUTCH MIRROR WORK EMBROIDERY
With a multitude of Kutchhi embroidery styles, the mirror work or "Sheeshedaar" embroidery form a vital part of their styles, that include the Ahir, Gotauvnor Gotany, Jat-Garasia and Jat-Fakirani, Pakko, Kathi, with the Rabari being the prominent one among these.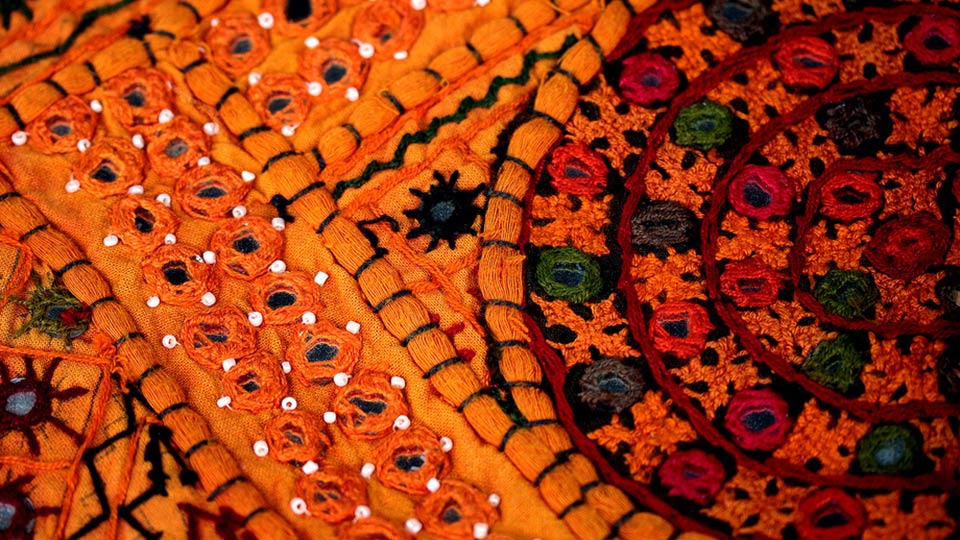 This tedious & specialised craft is characterised by the intricate patterns of stitches like the chain-stitch, herringbone-stitch, couched stitch etc. with "Abhla" or small mirrors, upon different types of fabrics like cotton, silk, or the "Mashru" & metallic threads accordingly. These crafts draw inspiration from themes of nature & daily life, geometric patterns or mythology, their traditional & regional styles reflected in them.
(3) JAMAWAR
This exquisite textile having originated & flourished under Mughal patronage, further developed under Banarasi silk weaving, generally worn as a gown, wrap or shawl, or even sarees.
Interlaced on a Pashmina or Resham base, seldom an addition of a little polyester, the brocaded parts are woven in intricate tapestry weaves with similar threads of silk and polyester.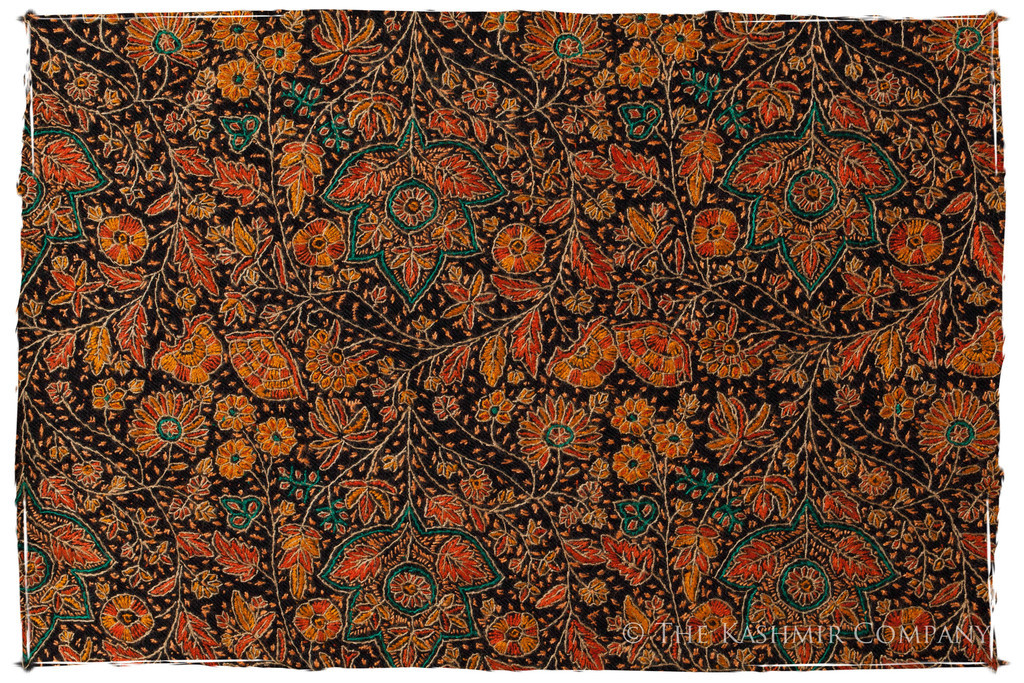 Said to have travelled from Persia, Jamawar of Kashmir was greatly influenced by Indian motifs – nature, geometric patterns, & classical designs like the Kairy, Regabutas, Kirk butis, Jaldar etc. with creative nuances introduced & evolved over time, though having become a rare & dying art to this day.
(4) BALUCHAR WEAVES
A native Bengali textile craft, the Baluchar weaves, initially patronized by the Nawabs of Bengal is famous for motifs with Indian mythological or lifestyle depictions of the royalty in its weaves on the Pallu of the saree, having become a distinctive product of Bishnupur.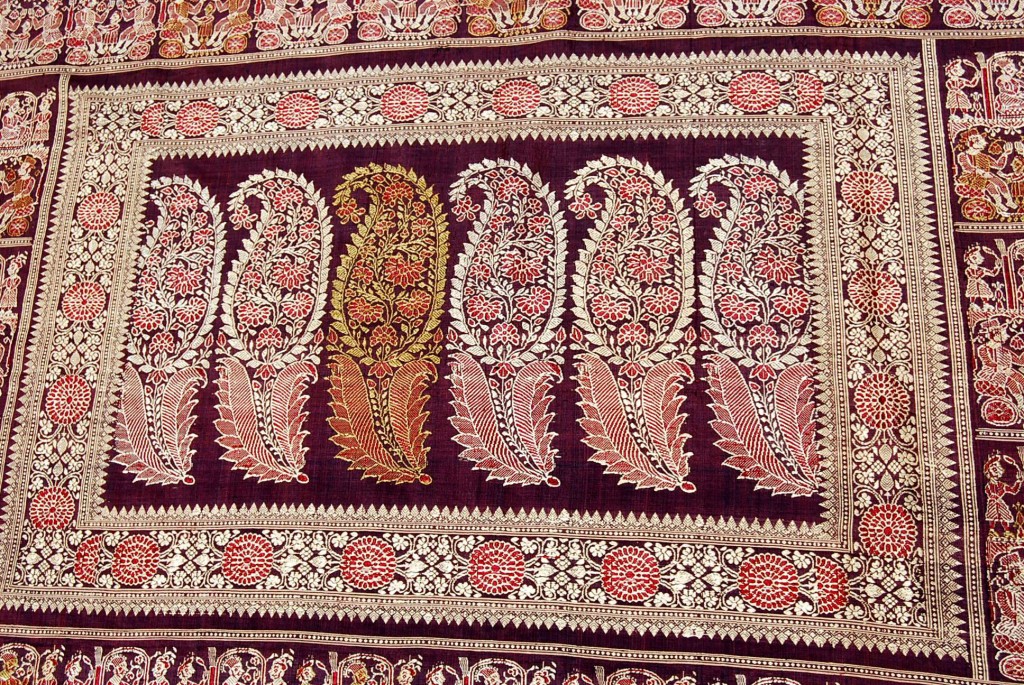 Classified on the basis of the weaving patterns & the threads used, it is known to have unique types – the Baluchari (1 or 2 coloured threads to weave), Baluchari Meenakari (1 or 2 coloured threads & Meenakari work) or the Swarnachuri (use of gold coloured thread). Also with environmental concerns in mind, there has been the development of the Organic Baluchari – eco-friendly & made with the use of natural yarns & colours.
(5) TANCHOI WEAVES
Tanchoi silk weaving, Gujarat said to have been brought in by China as "Amru Brocades", are an exclusive craft to Surat, also furthered to Banaras –the weavers creating cheaper versions by introducing Zari work & evolving into the Zari Tanchoi, Atlas or Gilt, Mushabbar etc., the technique having integrated & innovated into Indian versions & traditional styles as suited.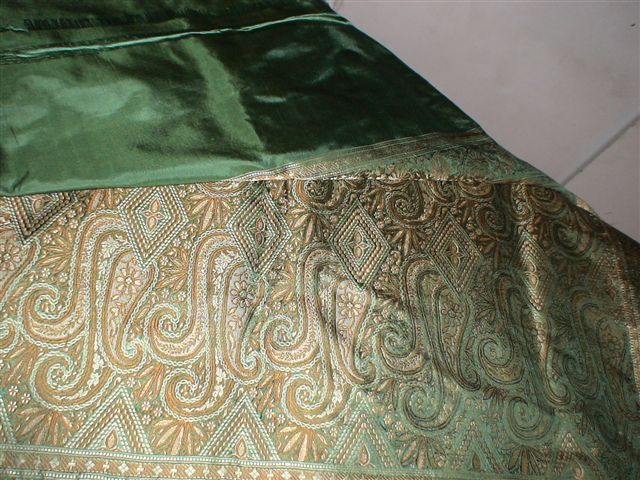 Famous for their one-of-a-kind weaves with a dual colour warp, two to five weft colours & intricate commonly used patterns of flora & fauna, with a Satin finish to the satin texture background, these works emanate elegance & subtle richness – the heavy silk, sober colours & detailed motifs.
(6) KANCHEEPURAM WEAVES
It is in the town of Kancheepuram of Tamil Nadu a.k.a the Silk City that the silk weaves have marked a global distinction, famed for the traditional luxury of the rich handloom weave & gold borders –be it Self borders, contrast Zardozi or Brocade work, on pure, processed mulberry silk yarn, also known by the name of Kanjivaram craft.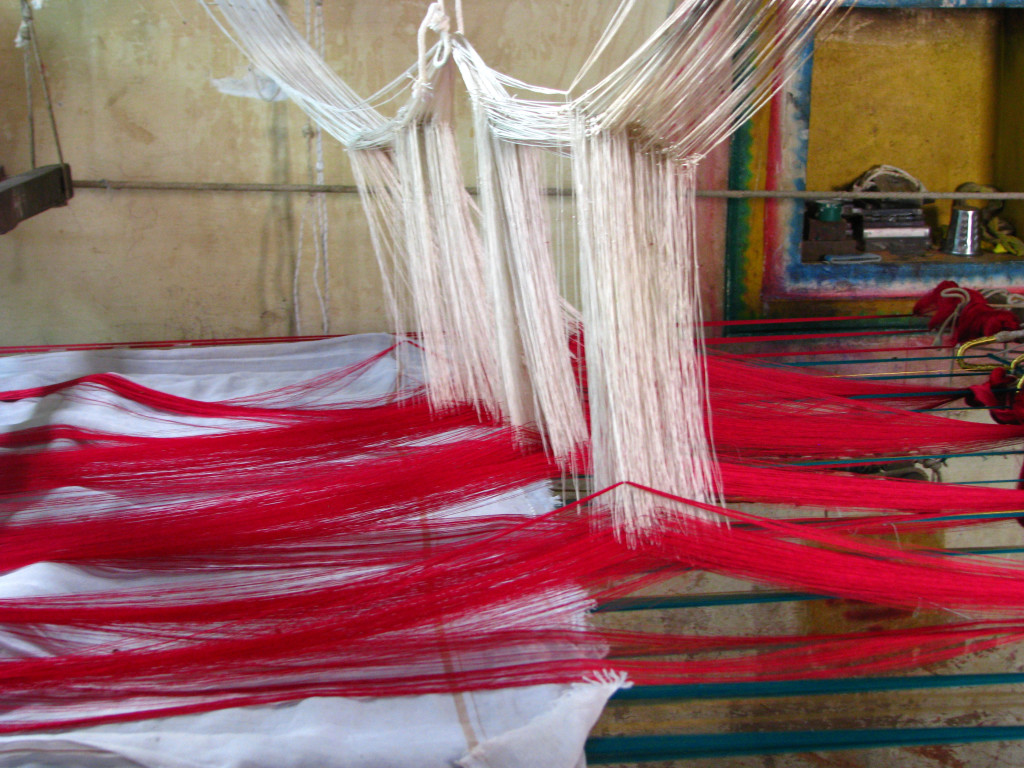 The complex process involves the Korvai weaving technique for contrast borders– different parts separately woven and interlocked together, with distinguished designs ranging from nature-inspired motifs, mythological & temple illustrations, paintings etc. especially known for the "Murukku-Pattu" saree.
(7) BENARASI SILK WEAVES
Benarasi Silk weaves have been an age-old tradition, considered as one of the most prominent & valued textile crafts organised around cluster-based work with Zari & Brocade amongst the major works.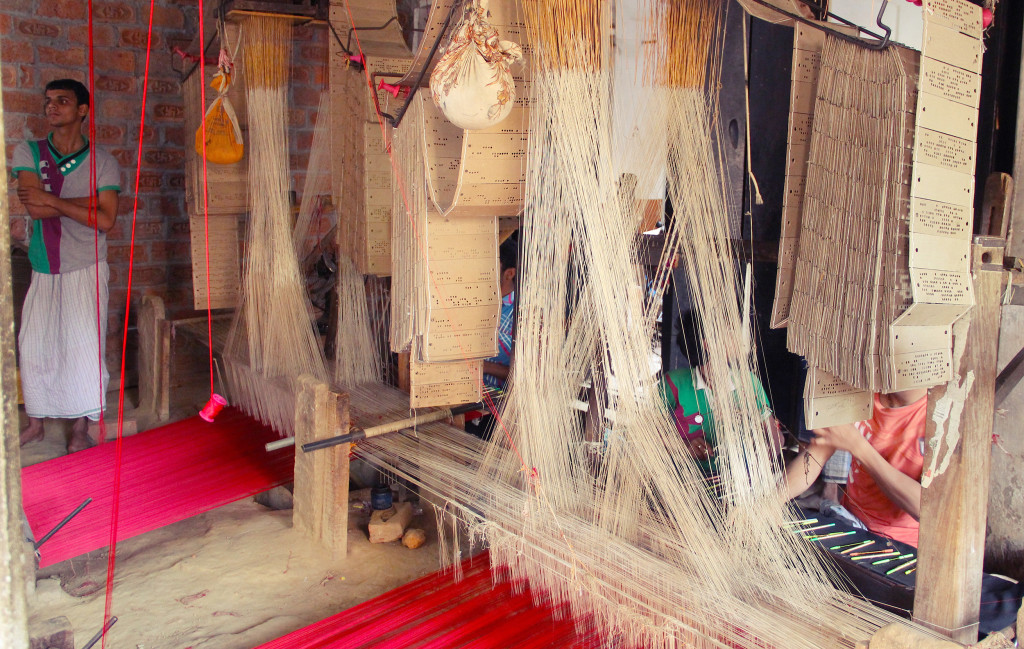 With a wide assortment of patterns – be it florals, Jali, Butidar, geometric patterns, Kalga & Bel, Jhallar etc. they range in a variety of styles distinguished by their production techniques, like Katan (Pure Silk), Kora (Organza), Brocade, Jamdani, Tanchoi, Jangla etc.
It is with the changing trends & tastes that the patterns, types & merchandises have evolved the fine opulent embroidery into the prized specialised craft it is today.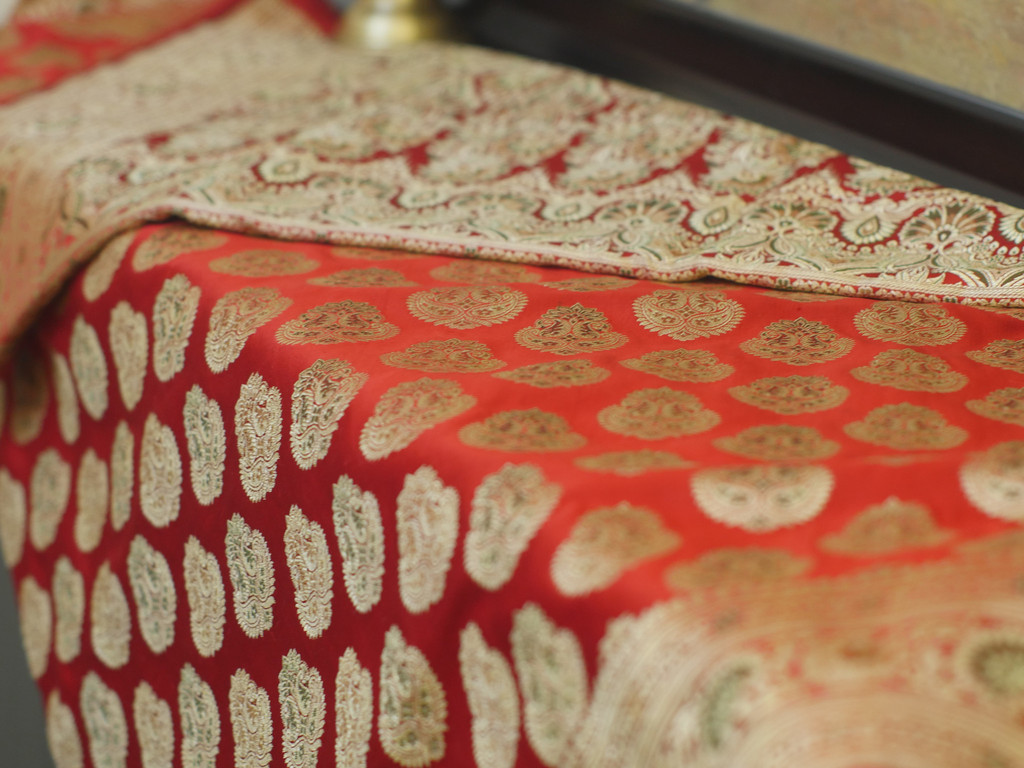 Specialised textile crafts in India are an integral part of our cultural traditions but have tended to lose their potential over time, at a loss of commercial value & market prices against the intensive effort & expertise involved in the product manufacture.
It is to us, to revive these traditional crafts & get them their worthy recognition.
Contact us for more information about indian craft and book a specialised textlile tour at: tours@shikhar.com