Ajanta and Ellora Caves considered as the gem of Indian archaeological history dates back to the 2nd century to 10th century. Each cave stands out with its uniqueness and bold structure that defines the craftsmanship of the ancient age making it the most strongest and largest caves of all. Located in Aurangabad city of Maharashtra, these tourist attractions consist of 64 rock-cut caves. The proud part of this archaeological site is both caves are listed under UNESCO World Heritage Site. A complete tour of these caves is the most of having the knowledge of delicate and skilful carving of interior and exteriors.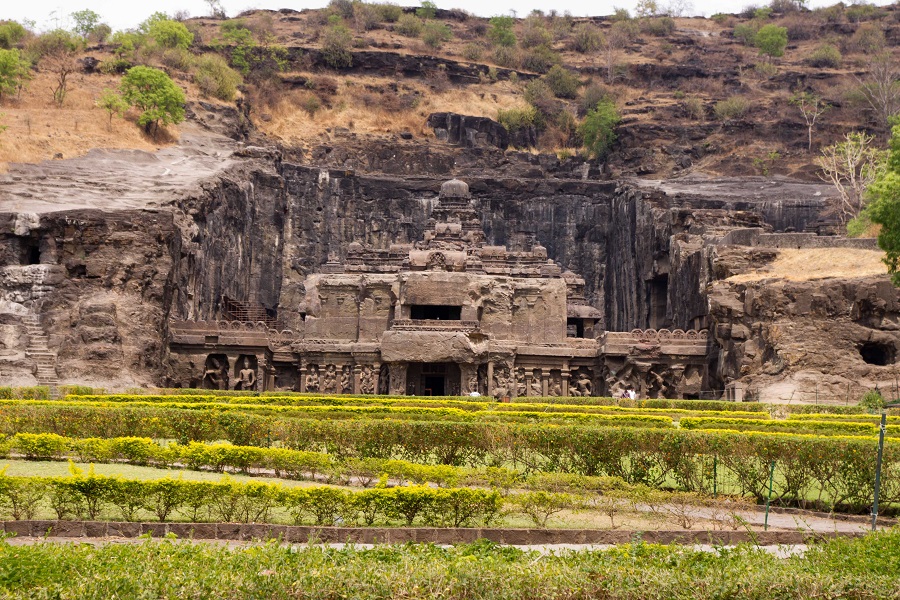 Hunting back to the History of Caves:
If you're beginning your journey with Ajanta caves, then you're bound to find some amazing history of caves. According to Walter M. Spink, the famous history scholar Ajanta Caves were built in two phases (Satavahana Period and Vakataka Period). Unfortunately, the building of caves was halted in midway and was abandoned only to get covered with thick forest. However, in 1819 it was rediscovered by a British officer. Considered as the Buddhist monastery, the caves were excavated between 2nd-century B.C.E and 7th-century C.E.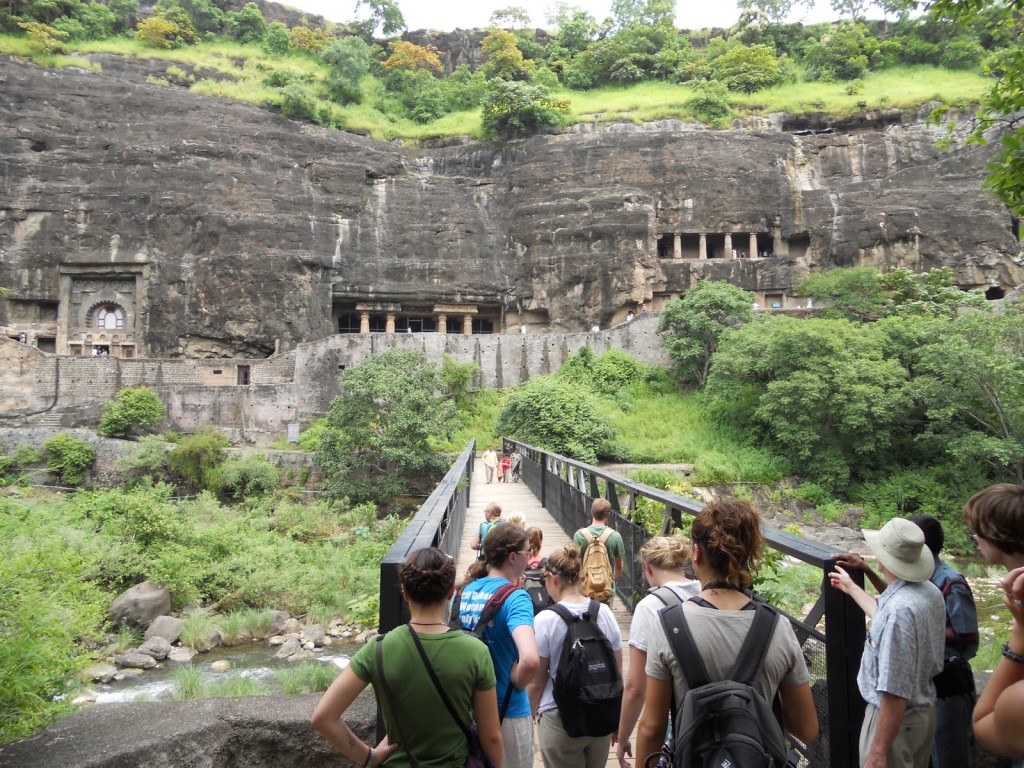 Once you step into the Ajanta Caves, you'll discover 29 Buddhist Cave Temples and some of the best Buddhist sculptures. Another interesting point is the caves are numbered from east to west, which in the ancient times was accessed from the river front. The natural beauty and peace around the area is the perfect place for meditating. This allowed monks to meditate peacefully. The Buddhist art inside reflects ancient Theravada tradition is having Buddha throne or footprints. Mahayana caves, one of the interesting caves, feature some colourful murals which depict life of Buddha. One way to get mesmerised and explore Ajanta Caves is through the reverse numerical order. However, of all the 29 caves, cave 1 is the most popular one because every inch of the cave is painted originally. Unfortunately, over the centuries every design has been worn out. Many murals sketched in the walls of cave one depicts various Jataka Tales, the story of the early lives of Gautama Buddha. If you're visiting Ajanta Caves for the first time, then avoid visiting on Monday because it remains closed.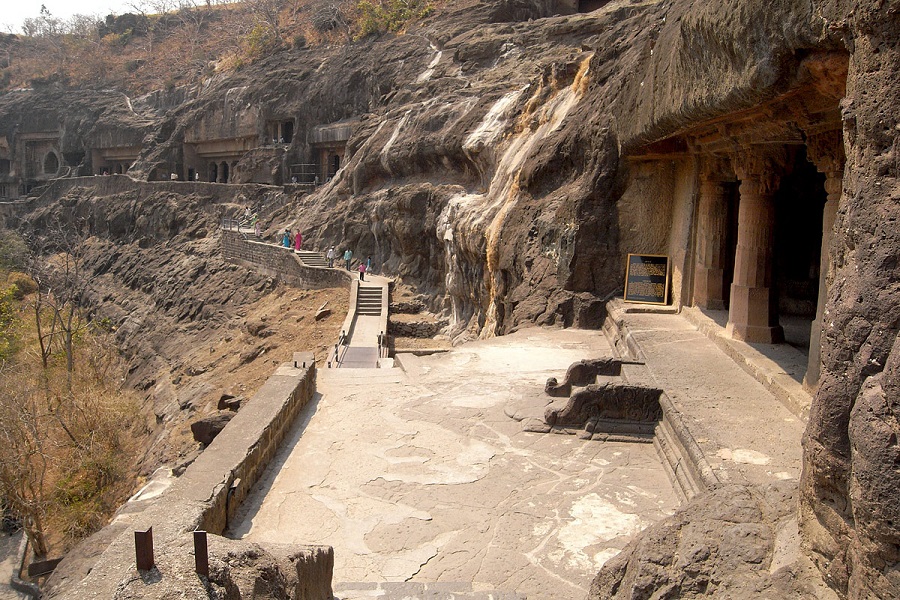 Exploring Ellora Caves:
Dating back to 5th-10th-century C.E, Ellora caves are divided into 3 parts- Hindu Caves, Jain Caves and Buddhist Caves. Unlike Ajanta Caves, Ellora is believed to be visited by enthused travellers and royal personages. Locally named as, Verul Leni, Ellora Caves is located on Aurangabad- Chalisgaon road, 30 km away from Aurangabad city. The cave is the largest single monolithic excavation in the world. One of the interesting parts of Ellora is the caves were built out of the volcanic basaltic formation of Maharashtra, also known as Deccan Trap. As you move ahead to explore the caves, you'll come across the glimpse of channels through which volcanic lava once flowed. The lava further gave rise to horizontal flows with vesicular traps beds.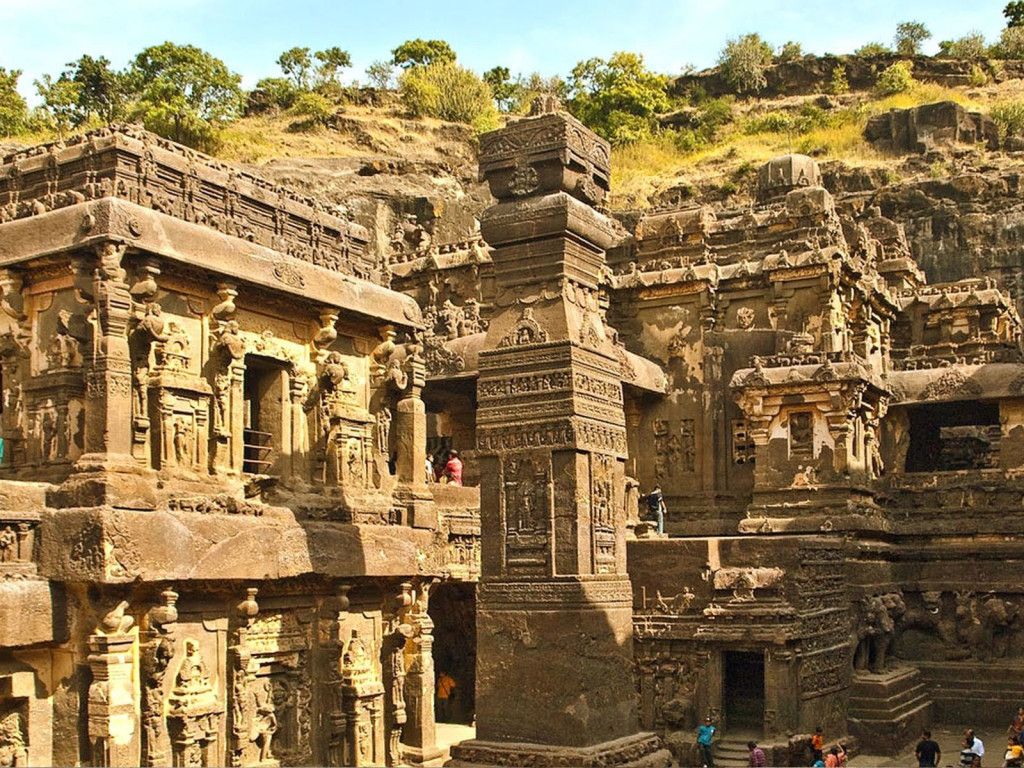 Ellora was once the trade route connecting the western ports of Arabian Sea like Kalyan, Chemula and island cities like Paithan, Ter and others. Ellora was excavated in three different forms- Buddhism, Brahmanism and Jainism, dated by 6th-7th century AD to 11th-12th AD. Presently, there are 100 caves, out of which 34 fall under famous tourist spots. Caves 1-12 belong to Buddhist, 13-29 to Brahamanical and 30-34 to Jaina.
To explore Ellora Caves, you need good amount of time. The artistic expression and architectural splendour is worth excavating. If you love investing time on exploring ancient art, then visit Cave no 10, 16, 21 and 32. These caves gives the clear glimpse of Buddhism, Brahmanism and Jainism art.
There are many more interesting facts that shouldn't be missed to be known:
Let us begin with Ellora Caves:
Buddhist Caves: Comprising of 12 caves, they were built during 550-750 AD. Each cave has a sculpture of Lord Buddha.
Hindu Caves: Comprising of 13-29 caves, they were built during 600-875 AD. Tourists exploring these caves will find sculptures of Apsaras.
Jain Caves: Comprising of 30-34 caves, they were built during 800 AD to 1000 AD and comprises of images depicting Jain lords.
Above all is the 15 feet huge statue Buddha seating at the two-story structure. The structure took 5 centuries to complete and was made using 20, 0000 tons of rock.
Some interesting facts about Ajanta Caves:
In the 7th century, Ajanta Caves were mentioned in Chinese chronicles by Xuanzang.
Caves house some of the earliest paintings which were old as 3rd century B.C.E of Satavahana times.
Every painting in Ajanta depicts the crucial sequences of Jataka Tales
Since its excavation, the construction of caves underwent number of changes. The later depicted the images of Buddha.
Conclusion:
These excavated caves also makes you to think what instruments were used that gave so amazing result and strong carvings. However, as the time passes,  these carvings and murals are losing its charm, but with tourists are still exploring these caves, they have made it to the widely visited tourist spot in Maharashtra.