Are you ready for a mountain expedition that will blow your mind and recharge your mind? You have an amazing opportunity to be a part of a fully guided mountaineering trip guided by expert mountaineers and Everesters. The grandeur of mountains, rough terrains and beauty of nature will make you crave for more and make you feel much more centered and relaxed. Here is what you can explore this time: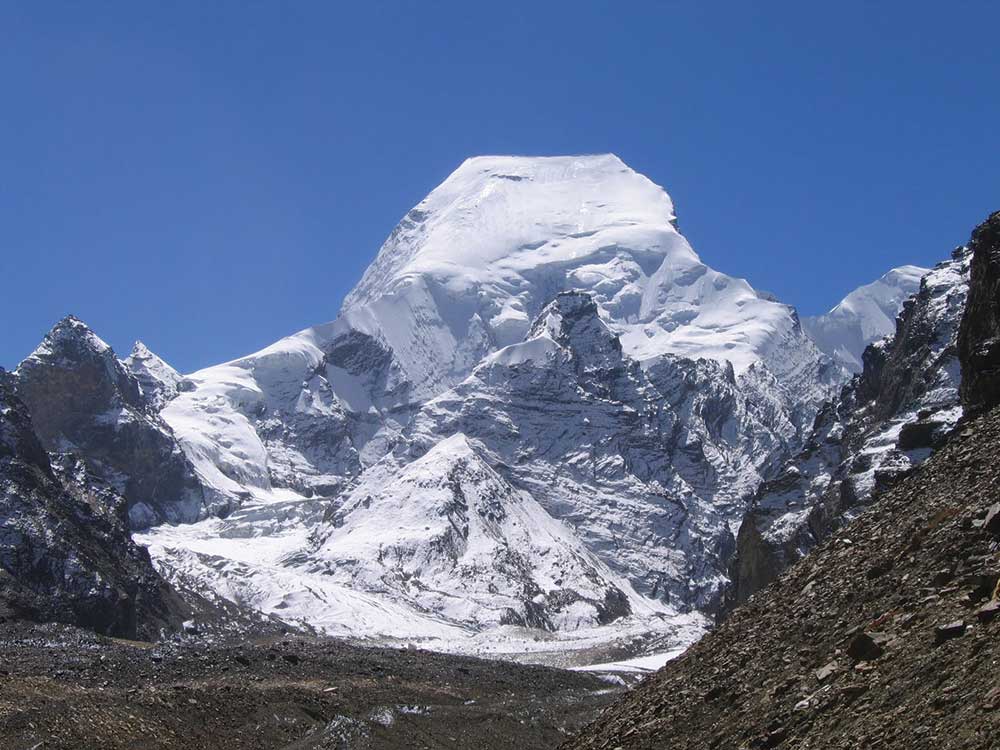 28-day Mount Satopanth Expedition – A lifetime experience with Everesters
The very first thing that you need to remember is that you should make yourself available for a complete month as there are plenty of locations that you will be covering in this trip including – Rishikesh, Uttarkashi , Gangotri, Chirbasa, Bhojbasa, Gaumukh, Nandanvan , Satopant before returning to Delhi.
Mount Satopanth is the second highest peak in Gangotri which is located in the depths of Garhwal Himalayan Range. It is seated on a disjointed group that separates Gangotri from the Chaturangi Glaciers. The expedition is quite a formidable even for the most seasoned climber as the route includes passing through a complex glacier via steep snow slopes and knife edge ridges before you can make it to the final peak. Another factor that makes this route as no piece of cake is its extreme weather conditions! But those who have a real passion for being a mountaineer are attracted more by its incredible beauty and a magnificent view of the Thalay Sagar and Shivling.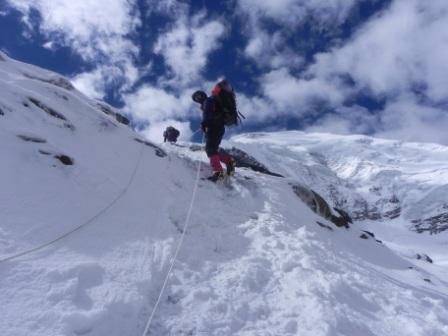 Satopanth, in a Lehman language, means a 'true path'. Mount Satopanth stands high at 7075m and serves as a preparatory expedition for those who want to transform themselves from a 'trekker' to a 'climber' as one is able to learn many technical climbing skills such as using fixed ropes, crampons and Jumar climbing.
• The expedition begins with travelling to Rishikesh from Delhi. You will be taken to Uttarkashi which is at 175 km drive from Rishikesh.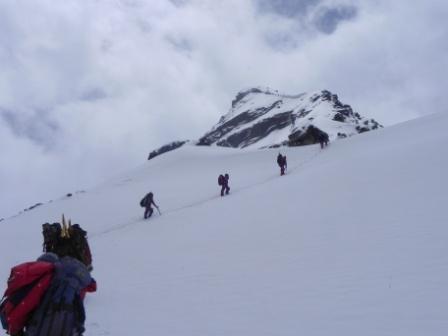 • From Uttarkashi, you will be driven off to next 100 km to Gangotri where all you will have to complete all the formalities related to mountaineering. When you are at Gangotri, you must know that you are 3048 m above the sea level and you have another 4000m to go!
• You first trek will begin to Bhojbasa at 3800 m. The breathtaking Himalayan view, snow covered peaks all around and Bhagirathi River on the right will offer you a breathtaking sight, and you will want to climb up more and more. Your first base camp will be set at Bhojbasa.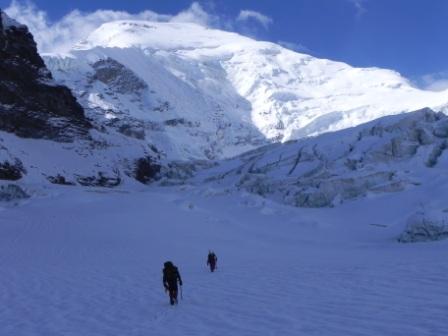 • Next, you can walk up to the 'source of river Ganga' – Gaumukh. While you walk, you can enjoy the mesmerising views of Mount Shivling and Mount Bhagirathi at 6543m and 6856m respectively. A little more walk will take you to Nandavan which is a huge alpine meadow located at the meeting point of the Gangotri and the Chatrungi glaciers. You can also admire the views of Mount Kedar Dome at 6831 m, Karcha Kund at 6617 m, Kedarnath at 6940 m and Mount Meru at 6672 m.
• The stay in tents is a different adventure. After relaxing there, you can start your trek to reach Khara Pathar base camp which is at a distance of 10 km. You will have to wait in the base camp for 16 days so that you get accustomed to the climate before you attempt the peak of Mount Satopanth. Mount Satopanth is the final destination, and after climbing the peak, you can follow the same route on return, i.e., Khara Pathar to Bhojbasa to Gangotri to Uttarkashi to Rishikesh. From Rishikesh, you will be taken to Delhi, which marks the end of the expedition.
Best Time for Satopanth Expedition
The best months for climbing Mount Satopanth are May, June, September and October.
Upcoming dates for this expedition in the year 2017-18 are:
11th September – 08th October 2017
21st May – 17th June 2018
04th September – 01st October 2018
In spite of wonderful views all around, unfortunately, you will not be able to capture them in your camera as the peak lies very near to the Indo-Tibet border and so due to the security concerns, photography is not allowed at all. Nevertheless, the experience will be one of a lifetime, and it will stay there forever in your mind.
Mount Satopanth Expedition is suitable for those mountaineers who have past experience in trekking and mountaineering and those who have technical knowledge of the same. Since the peak is located at a high altitude, it is not a recommended expedition for beginners or those who have less experience. But for those who have attempted several peaks in the past and are looking for a higher climbing experience, Mount Satopanth is the ultimate choice.
So, if you are looking for a fully guided mountaineering expedition, book your slot now!