People can have weird tastes when choosing the ideal alarm clock tunes. Some like waking up to a Katy Perry song, some like the Bhajan and hymns playing in the background and some just like the traditional elongated ring. Once they wake up, people have different routines, which ultimately lead to the same goal – getting set for the day. Some check their social media, some bask gazing out of their windows, some prefer a bed tea, so on and so forth. That might help you to get ready for your work, but do you think that is the right way to get ready for life?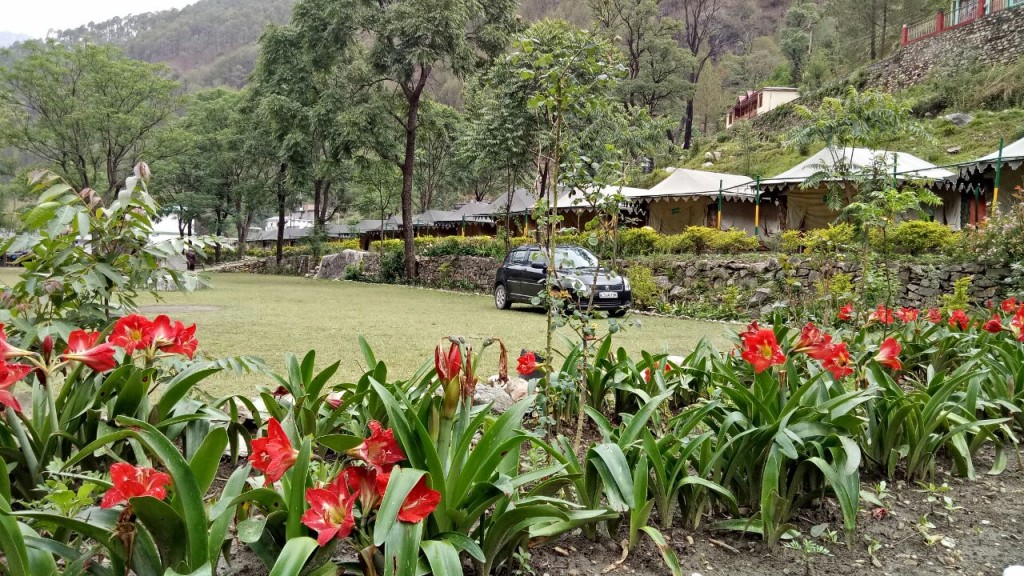 Life is a poetic experience and we tend to forget it while living up to the routine. Hence, the following imagery might be difficult to imagine for many; but try doing it – Imagine, you wake up in the morning not by the tone of some pop song or some redundant alarm clock, but by the symphony of a river flowing beside your residence. When you walk out of your room, you are not greeted by newspapers or social media notifications. The Himalayas are standing on all the four sides, wishing you a glorious morning. Wherever your eyes can run, you see lush green landscaped gardens. River's music in the background, Himalayas greeting you and your feet on green grass. Now the first thought coming to your mind would be – this is either heaven or virtual reality. Guess what, it isn't.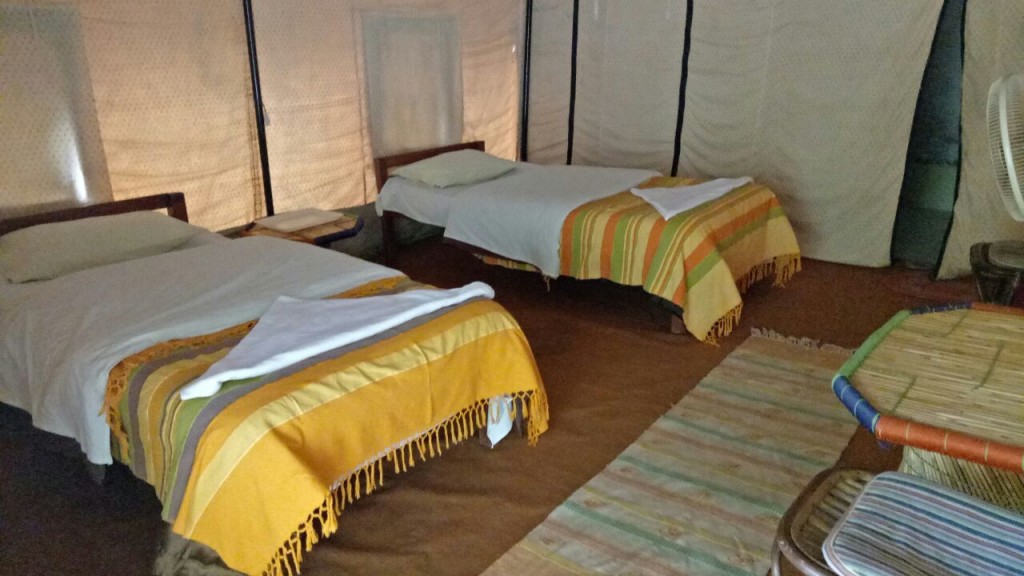 The above illustration is not an illustration but an experience felt by many who visited this resort in Uttarkashi. Sitting on the banks of river Ganga, amidst the lap of Himalayas, on a 4-acre landscaped area is a place called Shikhar Natural Resort. Shikhar, which translates to 'peak', is definitely the apt name for this place which epitomizes natural beauty. This is exactly what you need for a spiritual detox!
Still thinking why? Here are a few reasons that will make you fall in love with the place:
It is the best resort for yoga in Uttarkashi: Have you tried yoga in a yoga studio? Or in the open city gardens? It is almost like making a Roti and grilling it like a sandwich – it may work for some, but that is not how you do it! Now, yoga was practiced by the great rishis who explored the Himalayas and resided by the Ganges. This is exactly the state where you have to be, to feel the transcendental effects of yoga. With its natural setting and immensely beautiful surrounding, Shikhar Natural Resort becomes the ideal place for yoga if you want to experience what the rishis and saints practicing yoga experienced in its purest form, centuries ago. No distractions, no distortions. Sheer serenity and serendipity. Who knows, while discovering this place, you may end up discovering yourself!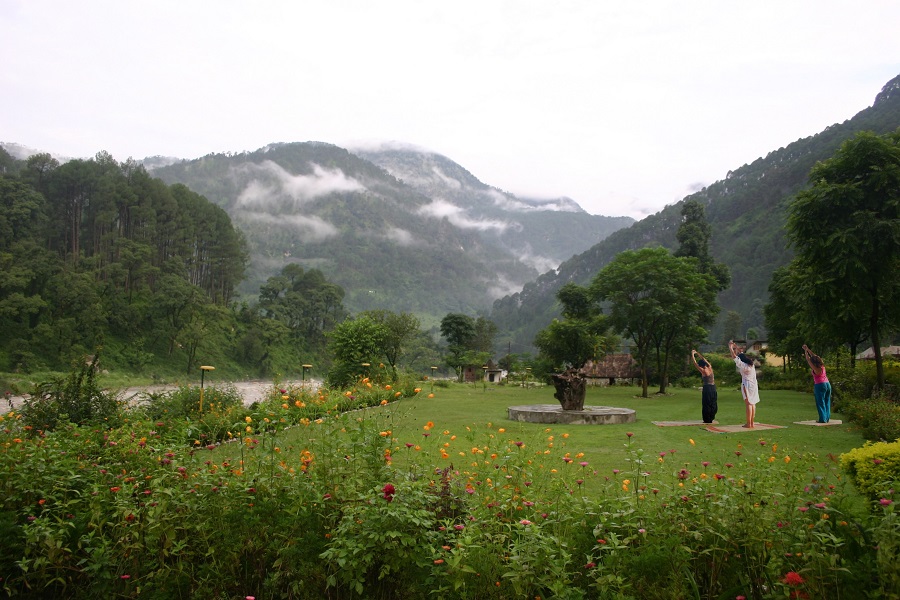 It is just modern enough to be comfortable: You may wonder that a place in such a remote location might be difficult to live in. You couldn't be any more distant from the truth! You do not need to look for a hotel in Uttarkashi, because all the amenities you expect are already here at Shikhar Natural Resort. Beautiful Swiss-styled tents with attached toilets in each accommodation, parking space, restaurant and lush green landscaped gardens, in addition to the spectacular views in all the four directions – yes, it's still a real place and no, it will not burn a hole in your pocket.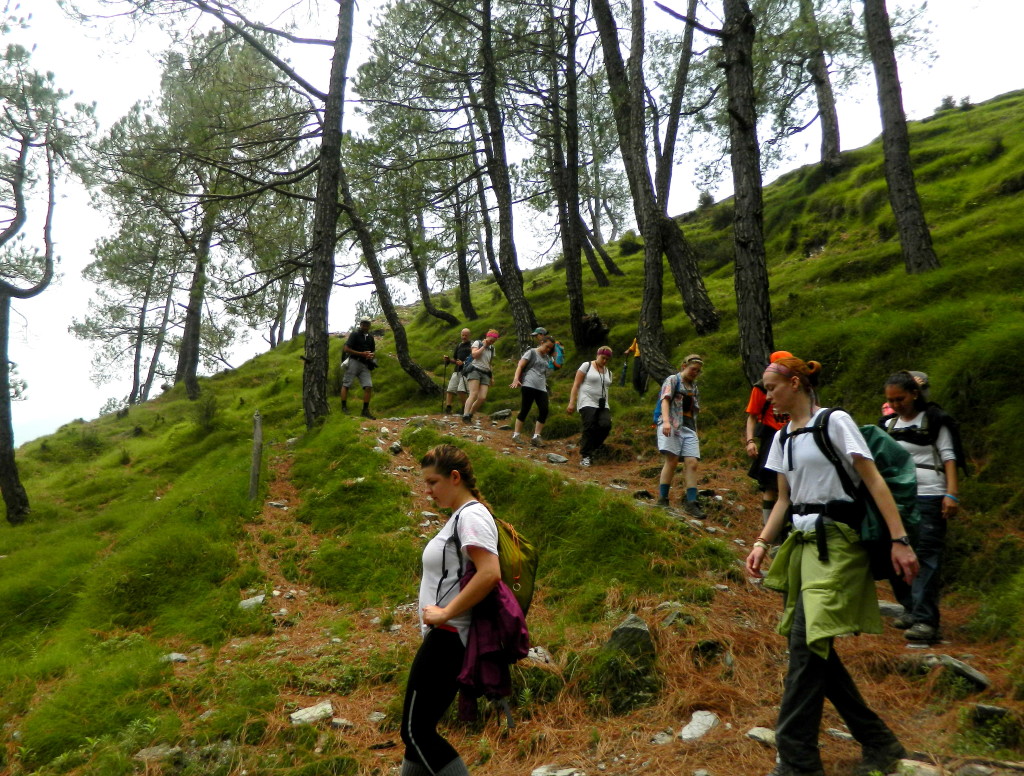 It helps the traveller in you: Just because it is a great place to stay, does not mean you get stuck here. Shikhar Natural Resort is strategically located and hence is only a few hours away from the most prolific experiences in Uttarkashi. Whether you want to visit the Gangotri temple, experience treks in Uttarkashi, try your hand at rock-climbing or rappelling or even go for a rental-bike trip, it's all easily manageable from Shikhar Natural Resort. This way, you are disconnected from the disturbances of the world, and yet can commute into any activity you have planned for your ideal trip.
Sometimes you need a reset to get back the state of enjoying the rhythm of life. A stay at Shikhar Natural Resort is exactly that reset button.
For more information email us: resorts@shikhar.com